A Burns Supper is a traditional celebration held by Scots to honour Robert [Rabbie] Burns (1759 to 1796), their most famous poet.
Suppers have been held regularly since a few years after Burns' death, first by a few close friends but more recently by Scots generally and, indeed, by admirers across the world.  Burns Suppers can be large and elaborate or small and intimate.
There are, however, a few essential ingredients which are included in a Burns Supper  programme.
Every Burns Supper includes Haggis. Haggis is "poor men's food" and therefore tasty – after all, the poor men had to learn how to cook well if the rich men took all the 'best bits'.  It is traditionally served with mashed 'neeps' [lanttumuusi] and mashed 'tatties' [perunamuusi].
The supper also follows a traditional programme. This can be very elaborate, or quite simple.  There are always (at least!) four recitations or speeches:
finally the two Toasts acknowledge one of Burns' abiding interests – women. The 'Toast to the Lassies' ["Maljapuhe Naisille"] lets us Laddies [miehet] say how wise Burns was in his admiration, while the 'Reply for the Lassies' ["Vastaus naisilta"] (normally) emphasises that men had better remember that!
In addition it is usual to recite or perform a selection of Burn's poetry or songs (for he was a prolific song writer and collector too).
The object of the Supper, besides commemorating a great poet and his contribution to civilisation, is one of which he would heartily approve --- to enjoy ourselves in good company.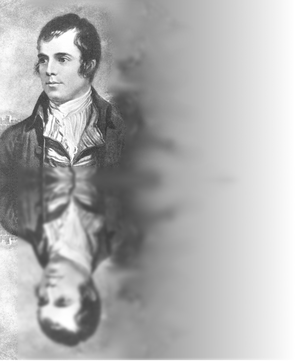 The tradition started in 2013 when the English Club of Oulu held a small experimental Supper in the cellar of the Swedish School on Sepänkatu.  This Supper in fact was a continuation of a separate tradition started by one of the Club's members.  Marjukka Fryer, in her capacity as External Relations Officer for Glasgow City Council in Scotland, had introduced Burns Suppers to Glasgow's Twin Towns, notably Nuremberg, Turin and Rostov on Don (but not forgetting Moscow!).  She has many stories to tell about those experiences if ever you get the chance to speak to her about them. This Oulu supper was rather smaller than her previous ones since there were only about thirty persons attending. The final opinion of the evening however seemed to be that it had been a great success and was well worth repeating.

In 2014 the English Club of Oulu joined forces  with the Oulu International Rotary Club.  The English Club is devoted to promoting knowledge of the English language and the cultures of English speaking countries.  The International Rotary Club on the other hand uses English in its meetings but has networking and charity work as its objectives.  A larger event was therefore appropriate and eventually the second Oulu Burns Supper took place in Raatin Nuorisotalo.  Approximately eighty people took part and a healthy profit was made.
Raatin Nuorisotalo still was too small to accommodate all the people that wished to attend however, so since then the Supper has been held in Aleksinkulma.  Aleksinkulma is a conveniently situated comfortable venue with all the facilities needed to host an event that combines a meal with speeches and performances. Both clubs are grateful for support from Oulu City Council in hiring and using this venue.